Held on 22 April 2016 in Phnom Penh by the Garment Manufacturers Association in Cambodia (GMAC), a presentation meeting of a study by the Evalliance Association on skill requirements and professional training of the Cambodian garment industry ; brought together many professionals of the sector and representatives of public authorities.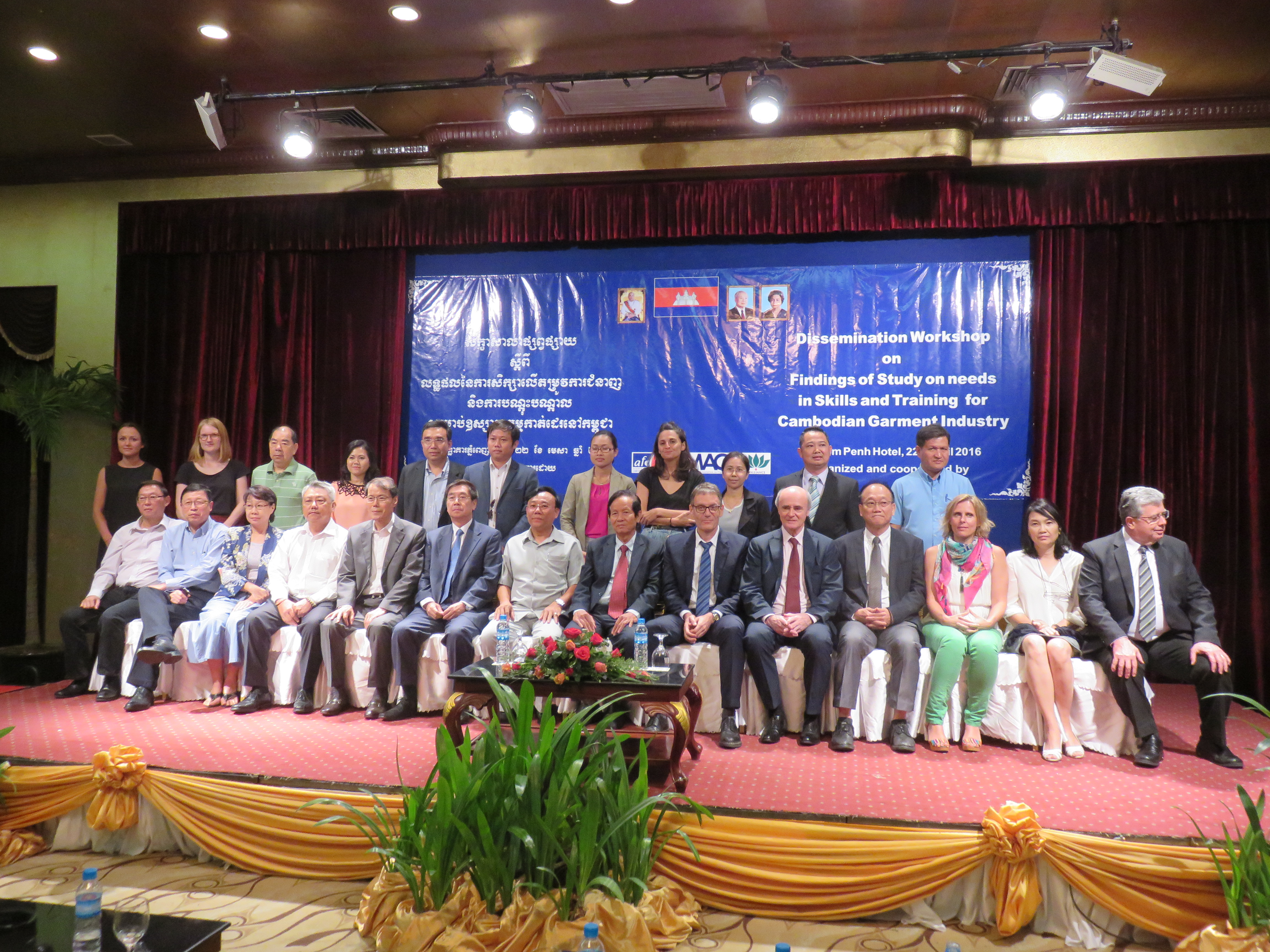 This study, funded by the French Development Agency (AFD), recommends the implementation of a strategy to strengthen the overall competitiveness of the sector (productivity, quality, responsiveness, deadlines, punctuality) and the enhancement of its offer (creativity, product differentiation, co-contracting, co-development, short circuit, prototyping, small series) ; This can be achieved thanks to a significant effort in professional training.
In this regard, the study proposes to develop new skills in textile (spinning, weaving, and printing) to promote the creation of an integrated textile and clothing sector as well as in the areas of marketing and management. The expected result is a better profitability of the enterprises, a strong acceleration of exports and the creation of many new highly skilled jobs.
"Faced with increased international competition and the competition from countries with very low wages, it is absolutely vital that the Cambodian garment sector get out of sub-contracting logic, develop added value policy for its products and services and acquires a certain independence vis-à-vis foreign supplies for its textiles," declared Mr. Van Sou Ieng, Chairman of GMAC.
Evalliance proposes to create a Fashion Institute of Cambodia, an organization that will be in charge of seven functions :
– Management of continued training courses for executive staff, managers and senior technicians,
– The implementation of an initial training cycle, beginning in 2018, for young Cambodian graduates,
– In a pilot enterprise, learning of executive staff and managers in sourcing techniques, fashion marketing, merchandising and management,
– The animation of a "technological space" dedicated to the introduction of advanced solutions in creation/fashion, CAPM, Product Live cycle Management, logistics, financial management, fashion marketing,
– The monitoring of economic conditions, through an online documentation centre, coupled with an economic research function,
– The development of an economic conference cycle,
– An advisory role and incubator for new companies.
Functioning in a network with schools and public and private training institutes, the Fashion Institute of Cambodia arranges the internship of young foreign graduates in Cambodian companies as well as sending young Cambodians to be trained in Europe and the United States.
Co-rapporteur of the study with Mr. Roger Zacaropoulos, Evalliance Secretary-General, Mr. Jean-Francois Limantour, Chairman of Evalliance, stressed that " this promising strategy for the future will make possible a training of a first high qualified generation of Cambodian executive staff and managers who will make textile - garment a key sector for the socio-economic balance of Cambodia and a thriving, cost-effective, highly exporting industry and industry which employs highly skilled jobs".