According to the newly published World Trade Statistical Review 2017 by the World Trade Organization (WTO), the current dollar value of world textiles and apparel exports totalled US$ 284 billion and US$ 444 billion respectively in 2016.
China remained the top exporter of textiles in 2016 with a 37 per cent share of world exports, even though its exports declined by 3 per cent. The next biggest exporters were the European Union (23 per cent share ; 1 per cent increase in 2016) and India (6 per cent share ; ; -6 per cent), Pakistan rose from ninth to seventh position while Viet Nam entered the top ten for the first time (2 per cent share ; +9 per cent).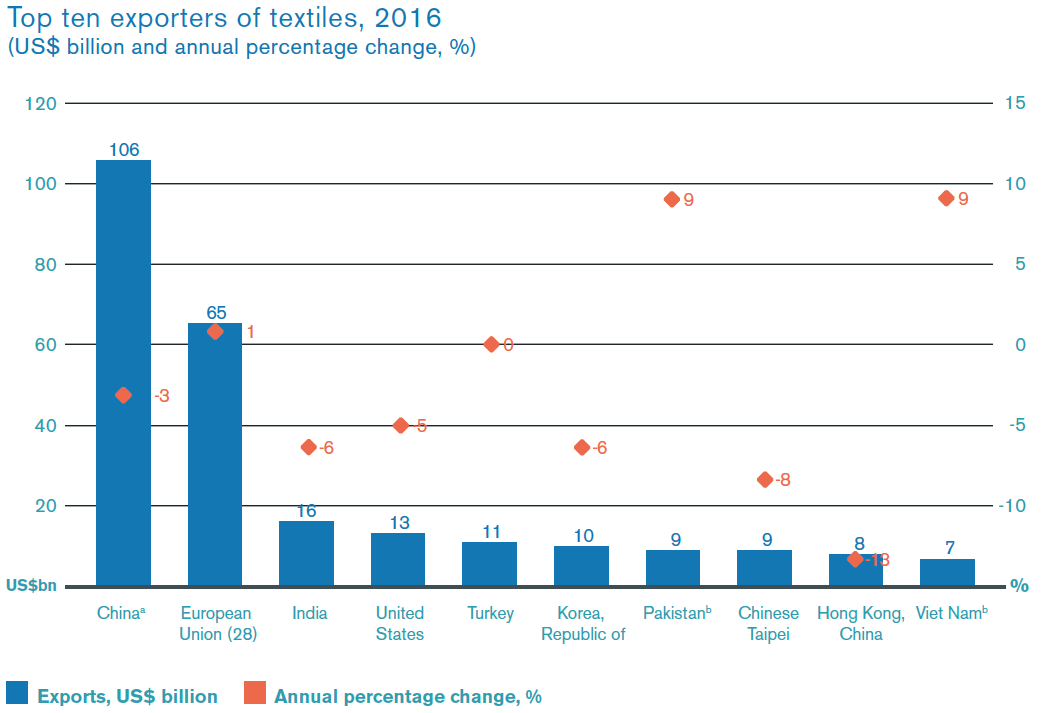 The top ten exporters of clothing in 2016 remained unchanged. However, Hong Kong fell from fifth to sixth position and India did reverse, rising to fifth place. China's exports of clothing fell by 7 per cent but it still stayed in top position, representing 36 per cent of world exports of clothing in 2016.
EU exports of clothing increased by 4 per cent in 2016, reaching a market share of 26 per cent. The highest increases were recorded by Cambodia and Bangladesh (+6 per cent for both countries). Exports of China and the United States declined the most (-7 per cent and -6 per cent respectively).